Electric power saving washing machine type
Environmentally friendly …. Zero electric hot water washer exhaust

Outstanding with big hot water tank.
Water temperature always to be heat.
Water supply device
※Discharge 80 ℃ hot water for washing in 24 minutes.
※Discharge 40 ℃ hot water for washing in 20 minutes

Food manufactury, seafood manuafactury
Inn, hotel, bathroom, etc...
Agriculture, livestock, ….
Hot water washing machine using in clean environment that does not put out the exhaust air.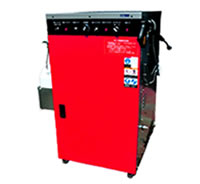 Series PHT
Friendly environment, sophisticated compact design

Advanced compact design and tough boby, appeared active in various place.
Adopt special 3 layer reinforced resin body.
Equipped with domestic pump and boiler
Nation network service
You can use it for a long time.

The emphasis on mobility by working at all.
General industries, for food factory, building maintenance, restaurants, food service, livestock, farm use is not chosen.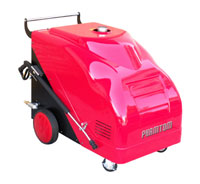 Series MR
MR-10 is full model changes, easier to use. PSE certicification acquisition machine.

Machine fit with "Electrical Appliance and Material Safety Law".
It can be used easily at home at single-phase 100V power supply.
Not choose location with compact and space-saving.
You can also load a van. It is ideal for business trip work.
※ Please check the dimensions of door in the cargo compartment.
Support from design in manufacturing and maintenance.
It is compatible with maintenance and quality of own domestic production goods.
It shows the power of hot water in cleaning dirt which could not take away in normal water condition.

Car maintenance, sheet metal, shipping company, taxi, motorcycle, bicycle.
Agriculture, forestry, fishery, animal husbandry, poultry.
Baths, hot spring, hotel, restaurant, food service.
Building maintenance, paint, air-conditioning equipment, piping cleaning, roof washing.
Civil engineering and construction, ship, aircraft, vehicle, food processing, production lines, various plants.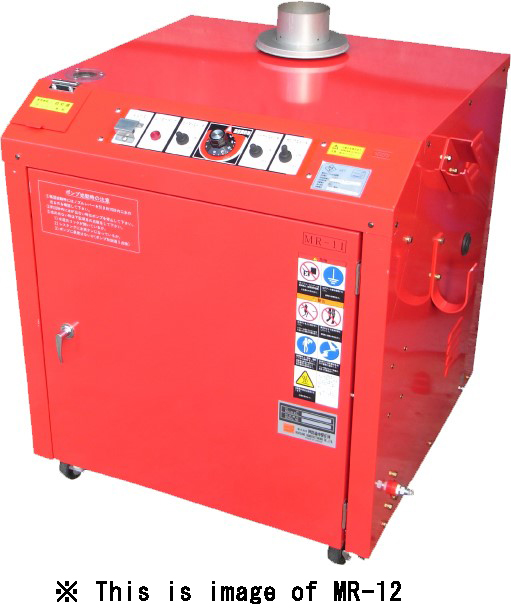 Series STR
High efficient and outstanding washing power.

Luxury stainless steel boiler adopted, achieve economic work with reduced fuel consumption at a stable temperature.
The balance of the ideal water pressure, saving time and cost.
Depending on the application-dirt,can be set temperature and pressure.
Enhanced safety equipment, designed to minimize the hassle of daily inspections
Labor - saving of maintenance work and cleaning at the same time clean and grease contamination, the adoption of ceramic plunger pump.

Automatic maintenance, metal sheet, car wash, shipping company, taxi company, car maintenance motorcycle, civil engineering and construction, construction site, ship, aircraft, vehicles, food processing, production line, for each seed industry, agriculture, forestry, farm, animal husbandry, poultry, bath, hot springs, hotels, restaurants, school lunch, building maintenance, paint, air-conditioning equipment, cleaning inside the piping, parts cleaning, waste disposal industry.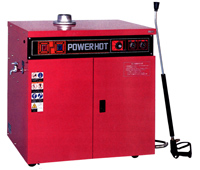 Supper hot water washer series S-1
Is there any dirt that had been given up until now? The solution is 120℃ power.

120 ℃ 10MPa pressure (20 ℃ water temperature)
Can free switching water, cold water, hot water
Can set up to 140 ℃ maximum temperature. Continuous combustion when 10MPa (120 ℃ regularly)
SUS304 stainless steel body, urethane casters, ideal for such as food factory.

Food factories, car maintenance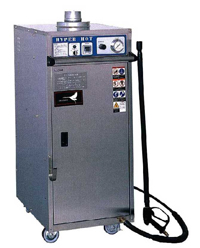 Hot water washing machine engine type
Net domestic! First domestically!

Even no electric power, still can use hot water !
Enhanced standard equipment !
Can be attached to the output receptacles (200W) for 100V! (Optional)

Can be used in any construction site on the mountain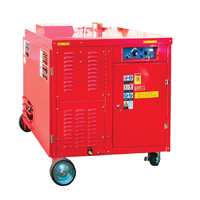 Copyright © 2009 OKATSUNE Co.,Ltd. All rights reserved.